Kinesio® Tape Taping Labs (workshops/seminars)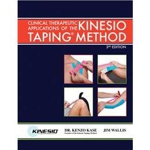 The books and DVD are tools to help you learn the Kinesio® Taping Technique. However, for the medical professional, the BEST and quickest way to learn The scheduled (open) Taping Lab presented by an experienced Certified Kinesio® Taping Instructor.
Better Yet, sponsor a Lab in your locale – economically it takes 12 to 18 people [6 to 9 taping pairs] then EVERYONE receives Kinesio® instructions directly from an instructor of your choice and one that fits your needs.
There are Taping Labs [both of the 'open' and 'closed' type] going on some place in the United States most months.
For information regarding scheduled [open] Kinesio Taping Labs or for sponsoring a Lab [of the 'open' or 'closed' type], please contact Jim Humble via:
Voice:

(505) 344-TAPE (8273)

Fax:

(505) 344-8279

Email:

Toll Free

(888) 344-TAPE (8273)